Main News
Site News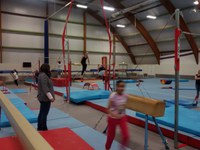 This week our Primary 6 and Primary 7/6 classes were given the opportunity to experience the new gymnastics facilities at the freshly re-purposed Dick McTaggart Center, Old Glamis Road. A great time was had, with free rein given to try most of the equipment as often as they wanted.
"We got to on the equipment and everything," said Reinards (P7/6). "We got to jump in the foam pits, and it was also fun jumping off the trampoline into the foam pits as well. It was like the best school trip we have been on!"
The sweat was certainly flowing when all the pupils came off, with all of them making the most of their time on the equipment.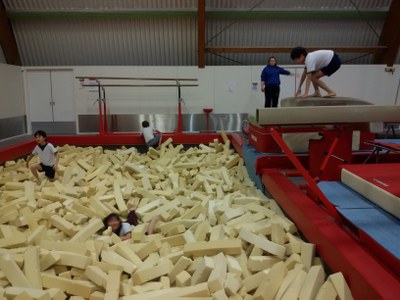 Triple fun with Leona, Asto and Eugene.
"Higher than it looks..."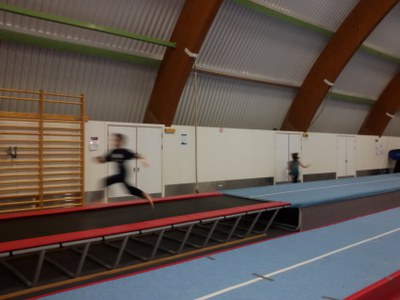 Road Runner sound effects please!
Blackness Primary pupils win big for Dundee REP's annual art competition.
This week saw two Blackness pupils being presented prizes from Dundee REP.
Pupils are invited annually to submit a piece of artwork themed around the winter show at the Dundee REP. This year pupils were asked to create a new potion for the Witches to use. Three pupils were chosn to recieve prizes, two of which were from Blackness Primary School.
Lytisha Ismail and Asto Tanaka, both from P7/6, were presented with their goodie bags after the performance of the Witches on Thursday.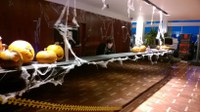 Primary 7 pupils were given the opportunity to take part in a competition run by the Apex Hotel in Dundee. Pupils were each given a pumpkin by the hotel and were asked to submit it, carved and decorated, to be displayed in the foyer of the building at City Quay. The pupils rose to the challenge and pumpkins were returned sporting wicked grins, evil stares and haunting lights.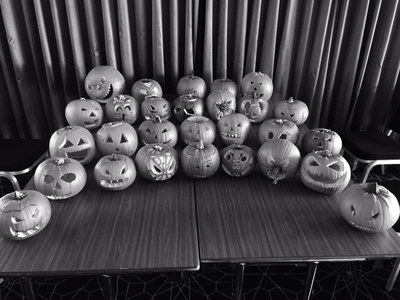 Going for the more tradition route, many of the pumpkins came carved, using the carving alone to create the design. Others, however, used some less conventional methods to decorate their gourds, including cocktail sticks and LED lights.
The winning pumpkins were created by Zainab Rizwan (3rd), Reinards Strouds(2nd) and Xanthe Brewster-Black (1st).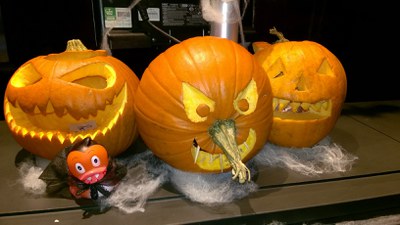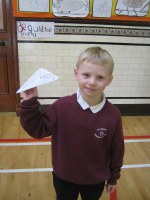 Primary 5 and Primary 4/5 visited the DCA to watch the Australian film Paper Planes as part of the annual Discovery Film Festival. They were so inspired by the film about a boy, who makes it through to the international finals of a paper plane making competition, that they decided to hold their own event.
The two classes held heats, with pupils encouraged to create and alter their own paper plane designs. The aim of the competition was to construct a plane that would fly the longest distance. Four pupils from each class were selected to continue through to the final.
The film and follow-up activities generated a wide variety of discussion and investigations. These ranged from the effects of de-forestation to aero-dynamics.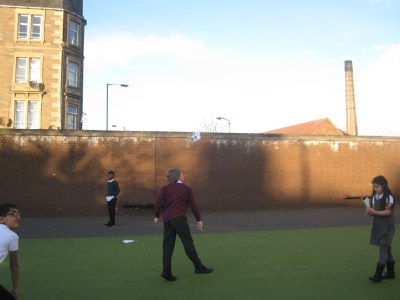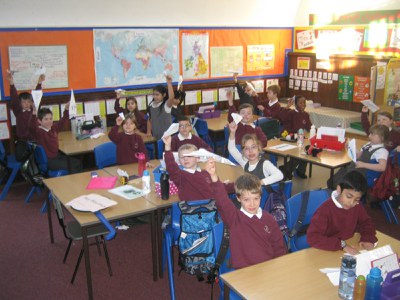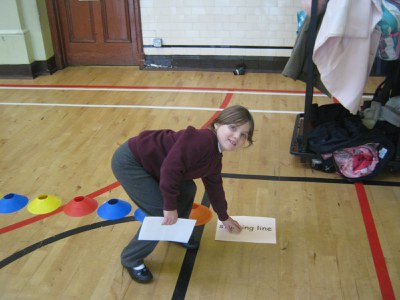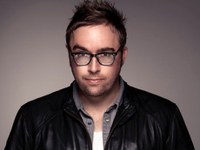 Primary 7/6 and Primary 5/4 have been offered the opportunity to visit BBC Scotland and take part in an Authors Live event on Thursday 26 November.
Authors Live is a series of events broadcast live online for children to watch in school or at home, and then available on demand afterwards, produced by BBC Scotland Learning and Scottish Book Trust.
The events are a fantastic way for families to share a love of reading. You can share in your child's experience by watching the event at home; just visit the Scottish Book Trust website: http://goo.gl/wBi4ao. (To watch live you will have to register prior to the 26th November using the link).
Authors Live: On Demand
You can share in your child's experience by watching the event or any of the previous Authors Live events with likes of Michael Rosen, Tony Robinson, Julia Donaldson, David Walliams or Polly Dunbar & Long Nose Puppets at home (for free) by visiting http://www.scottishbooktrust.com/learning/teachers-librarians/authors-live/watch-on-demand
All the pupils are very excited to be part of a live audience and are looking forward to parents and carers having the opportunity to watch them live or watch the event played back through the Scottish Book Trust Website.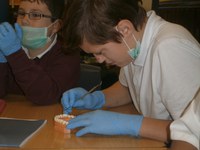 Today Toothy Tigers visited Primary 7/6. An initiative implemented by the Dental Students in Dundee, Toothy Tigers deliver talks to children of all ages about dental hygiene and health. The primary 7/6s were given hands on experience of how to create fillings and build teeth as well as investigating the sugar levels in common everyday foods and how to brush teeth efficiently. Most pupils were surprised at how much sugar is in a lot of the foods we take for granted, especially tomato sauce which contains a cube of sugar per teaspoon!
Below are some of the pictures from the session.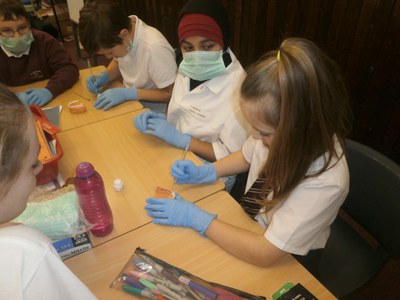 Creating fillings on false teeth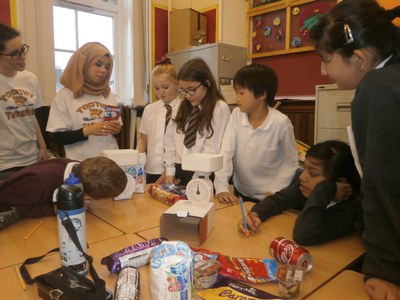 Discovering that even nuts have sugar!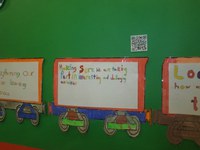 We have been working hard at Blackness to ensure all our hard work as a school, improving attainment and the quality of input that all pupils at the school receive whilst in our care, is clearly displayed throughout the school.
A new TV/AV system has been installed in the lower hall to allow parents carers and other visitors to see current initiatives, classroom displays and work that is being completed by our staff and pupils. Hanging on the wall in the middle hall is our "Journey to Improve" train which shows the elements of our School Improvement Plan (rewritten by the pupils to increase their understanding) with links and eventually pictures to evidence the great work being curently undertaken in the school.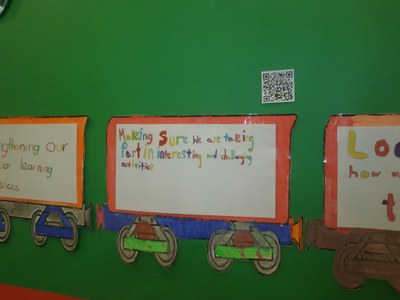 QR codes are displayed, linking to our website, evidencing how the school is meeting the targets we have set ourselves. To acces these a QR code reader app can be installed on your phone or tablet (e.g. http://www.i-nigma.com/Downloadi-nigmaReader.html)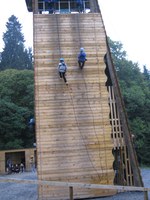 Some of our primary sevens headed out for Dalguise for an outward bound experience on Monday and return today. They all have some wonderful stories to tell and adventures have been had by everyone in the group. The remaining primary sevens have been involved in the community week where they have undertaken activities such as visiting the Discovery and Dundee Science Center, playing tennis and making pizza. Pictures showing the activities undertaken by both groups will be available online shortly.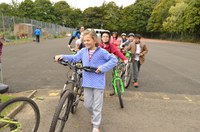 This week saw the end of the cycling road safety awareness delivered to the Primary 6 and 7/6 classes by the students at Dundee College. For some of the pupils involved, learning to ride a bike has been the great achievement. For others their skills on the road have been tested and developed to ensure that they have a greater awareness of the dangers of riding on public roads and how to do this with increased safety. Whether learning to ride a bike for the first time or maintaining balance while complicated manouevers are being comlpeted, all our pupils have grown in determination, resilience and confidence.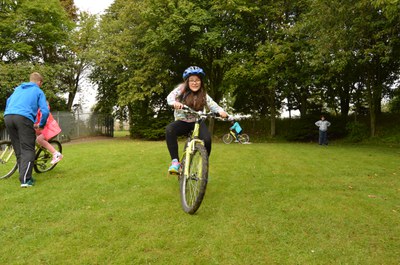 "Watch OUT!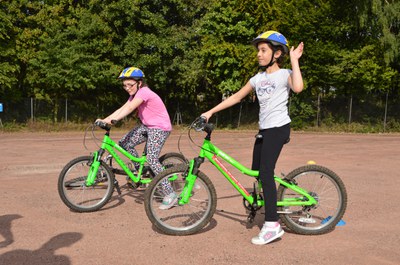 "Raise you hand if you are enjoying yourself!"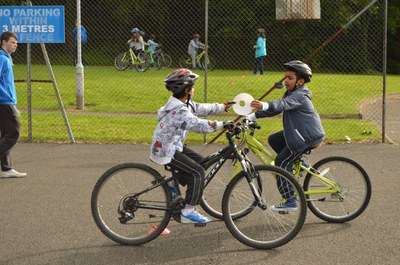 This activity is a bit  "Cone"-tracted.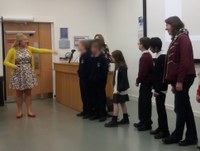 Our Primary 6 pupils were invited to the Red House Book Awards Party on Tuesday 8th September as a thank you for taking part in the awards last (academic) year. All well very excited to meet three of the award winning authors included in last year's awards, Pamela Butchart, Debi Gliori and Stuart Hill. Presentations from the authors and a chance to speak to the authors (and have books signed) added to the thrill of the day.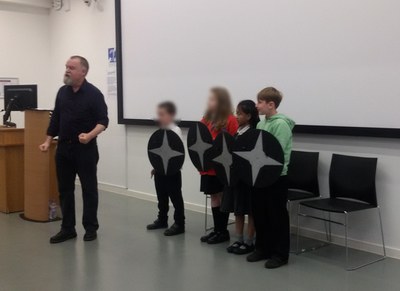 Author Stuart Hill and Blackness pupils re-inacting a scene from his book.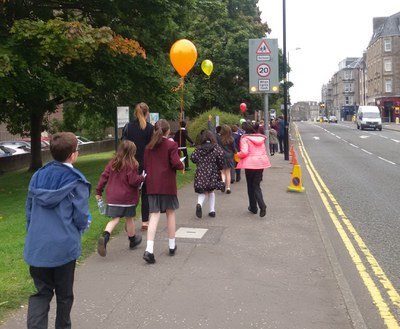 The walk back to school, complete with balloons.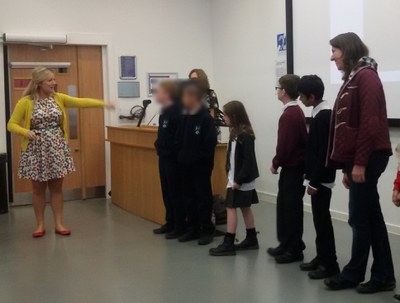 Pamela Butchart showing pupils (and a parent) how easy story creation can be.