Euro Event P7 Transition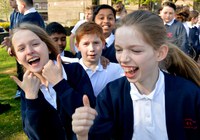 This week Primary 7 pupils from across the Harris cluster have been invited to take part in a morning or afternoon of European themed modern language games. The event, hosted by the Modern Language department at Harris, took place in Menzieshill Community Center. Our Primary 7 pupils enjoyed all the activities on offer, and two were even part of the winning team and received trophies for their efforts.
Being part of mixed groups was really beneficial to all the pupils involved. They have made some new friends and spoken to pupils from other schools that will potentially be in their classes next year. There will also be an opportunity to expand on this when we have an informal cluster gathering in Victoria Park next month.