Uphill Trust Bake Sale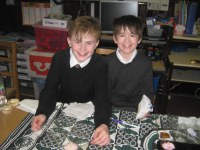 P5 and P7 held a bake sale on Thursday the 22nd March to raise money for the Uphill Trust.  Both classes worked really hard to create posters and advertise the event to the other classes.  Everyone baked or brought something to sell.  They raised around an incredible £560!  They hope that the church collection will add to this impressive amount for this very worthwhile cause!  A big well done to all involved! 
The Uphill Trust supports Uphill Junior School, a private kindergarten/primary school in western Uganda. Many of the children who attend the school are from poor rural families and a significant number of the pupils are orphans or come from single parent homes due to the devastating effect of HIV/Aids in Uganda. Uphill Junior School actively promotes the education of girls as well as boys.