DCA Visit - Paper Planes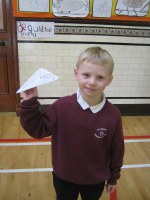 Primary 5 and Primary 4/5 visited the DCA to watch the Australian film Paper Planes as part of the annual Discovery Film Festival. They were so inspired by the film about a boy, who makes it through to the international finals of a paper plane making competition, that they decided to hold their own event.
The two classes held heats, with pupils encouraged to create and alter their own paper plane designs. The aim of the competition was to construct a plane that would fly the longest distance. Four pupils from each class were selected to continue through to the final.
The film and follow-up activities generated a wide variety of discussion and investigations. These ranged from the effects of de-forestation to aero-dynamics.